Tel: +86 577 86738692

Skype: gracechenlt

E-mail: cfqgrace@163.com

Contact person: Ms.Grace Chen

Address: Wenzhou City, Zhejiang Province,China
Home>>Surgical Gowns>>Surgical Gown 3 ( Spunlace, reinforcement or non reinforcement, Sterile)
Surgical Gown 3 ( Spunlace, reinforcement or non reinforcement, Sterile)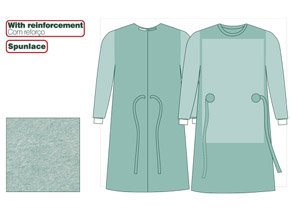 • Composition: spunlace non-woven, 55% cellulose and 45% polyester.
• Properties: breathable, comfortable and low linting.
• Approx. weight: 68grs./sq.m.
• Colour: Green or blue
• Design: close in back, knitted cuffs, reinforcement in the chest and forearm. With reduced number of seams to avoid the possibility of liquid penetration. Inside and outside belt sewn to the gown.
• Presentation: folded with two towels inside a non woven
wrap field.
• Packing: individual peel-open pack + shelf box + transport carton.